Kings, Queens and medieval nobility caricatures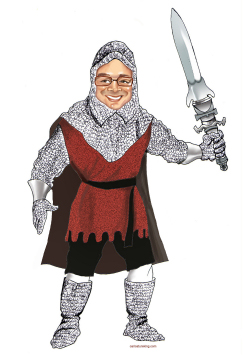 Your face in our bodies like this
The affordable way to get a fun caricature
Sometimes you want a caricature, but you are working to a budget.
To meet this need we are making available a selection of fun kings, queeens and medieval people that you can have your head/s placed on the body at a much cost lower than if you had ordered the original! For instance, your head on an existing body saves you $35 or more!.
It's easy, all you need to is Email Matt a photo for the artist to draw from and then click the image you want - this will take you directly into the order form where you can complete the checkout process.
Within days we will email you back your finished caricature ready for you to print at sizes up to poster print. We also offer a print and frame and poster print service. Ask about this when submitting your order.
Images are 3050x3800 pixels (rounghly 8x10 inch proportions) - and suitable resolution for printing up to poster size or on mugs, Tshirts etc.
:: Price and Ordering ::
All orders are in US$ and priced at $45 per head, including face and hair. Item color changes, add $10 - by request when ordering. Email Matt the image/s the artist should draw from.
Of course if you want your own theme from scratch, just visit each artist's page using the menu at upper left.
Your caricature face here


Click to order Knight - $45

Click to order Lady1 - $45

Click to order Lady2 - $45

Click to order Noble - $45

Click to order NobleMan - $45

Click to order Princess - $45

Click to order Queen - $45
.
:: Ordering ::
Just click on the image or link to go to the order page. Contact us if you have any questions!!
Click here to browse and order a new caricature